---
211 Downtown Plaza




Fairmont, Minnesota


Monday - Thursday: 11:00 a.m. - 10:00 p.m.
Friday - Saturday: 11:00 a.m. - 11:00 p.m.
Sunday: 4:30 p.m. - 10:00 p.m

.

---

507.238.4725
Dine-In ~ Delivery ~ Pick-up
---
---
NEW JAKE'S PIZZA OWNERS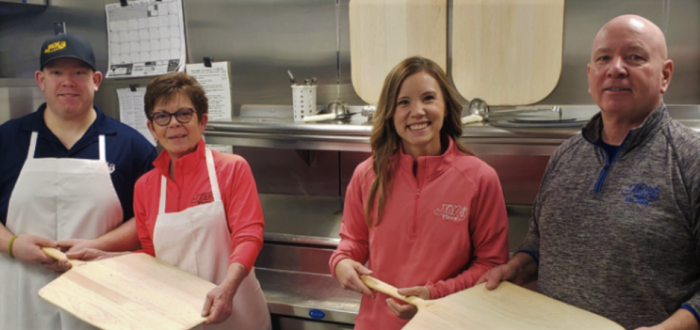 Jeff and Kim's children incoming owners
Shea Ehlert and Shaina (Ehlert) Sheppmann
---
Jake's Pizza uses the finest quality ingredients to make the highest quality pizza. Our dough is made fresh; our meat is ground by local butchers. Our cheese and tomato products are 100% natural.
We don't use any gimmicks or high pressure advertising to attract business, just reasonable prices, wholesome nutritious food!
---
~ We accept most credit cards
~
~ Delivery charge within city limits ~
~ Reserve our party room ~
It is perfect for
birthdays, meetings,
celebrations or banquets.
---

~ PIZZAS ~
Create your own pizza with any of our ingredients or try
one of our specialty pizzas!

~ INGREDIENTS ~
Pepperoni • Sausage Beef • Shrimp
Canadian Bacon
Chicken Capocollo
(Spicy Ham)
Mushrooms • Onions
Black or Green Olives
Pineapple • Tomatoes
Green Peppers
Roasted Red Peppers

~ HALF BAKED ~
Pizzas you can
finish at home.
Try our cheese bread
pizza for an appetizer













~ SANDWICHES ~
Served hot or cold
with chips,
carrots or pickles

~ SALADS ~
Choose from
side salad to our Specialty Salads

~ SOUP IN SEASON ~
choose from cup
or bowl

~ BEVERAGES ~
We serve
Pepsi products
coffee, cappuccino,
milk, hot chocolate,
gatorade, lemonade,
bottled water,
Miller Lite,
MGD &
Coors Light
---
Check out our full menu
~
Menu in pdf format
---
top
---
Copyright 2022-23 · Jake's Pizza · Fairmont, MN · All Rights Reserved